Injection Molding defect:molding warpage or deformation
All Injection molding defects>
Solving
molding warpage
problems
Definition
Warpage occurs when there are variations of internal stresses in the material caused by a variation in shrinkage. Warped parts may not be functional or visually acceptable.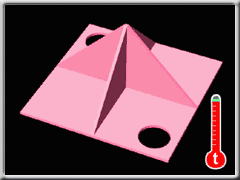 Causes
Non-uniform cooling
Temperature differences from one side of the mold to the other can lead to layers freezing and shrinking at different times and generating internal stresses.
Inconsistent shrinkage
Resulting from: a) Material variations such as property variations, varying moisture content, inconsistent melt and pigmentation; b) Process conditions variations such as inconsistent packing and varying mold and melt temperatures; c) Machine variations such as a damaged check ring and unstable controller.
(Animations not available More...)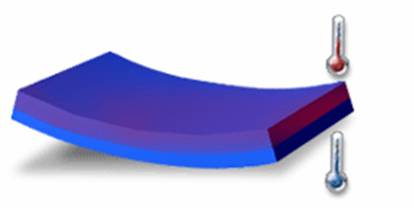 Remedies
Minimize differential shrinkage
Minimize orientation effects
Position gates for uni-directional flow, and modify part thickness.
Change part geometry
Add features such as stiffening ribs to the design. Alter part design to avoid thick sections and reduce the thickness of any features that intersect with the main surface.
Use thinner wall sections with ribs
Thicken only those wall sections that require extra material for structural stability and that cannot be strengthened using another method.
Change material
Semi-crystalline have naturally higher shrinkage and hence are more prone to warpage.
Solving one problem can often introduce other problems to the injection molding process. Each option hence requires consideration of all relevant aspects of the mold design specification. Which type of part intend to cause warpage? 1:If the part is molded with PP, HDPE, PA, POM. The parts with the plastic will be easy to cause warpage. 2:The bigger part with litter ribbers. 3:The unreasonable part design will cause molding warpage or deformation.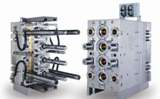 If you need high quality
injection mold tooling,
Contact us.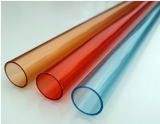 If you need high quality
plastic extrusion services,
Pls contact us
sales@viewmold.com
If you need high quality
sheet metal parts,
Pls contact us
sales@viewmold.com
Our services
Warpage is trouble issue, serious warpage will cause the fairlure of part.
Viewmold
companys
engineer team have researched warpage for 10 years, and found some warpage is caused by unreasonable parts design, injection mold design or unreasonable injection molding condition.
In 2018, Our
injection molding
testing team found that the most warpage can be improved by adjusting injection molding condition. Injection molding pressure, Injection molding time, hold molding pressure, cooling time, step, mold temperature and ejection are keys. Sometimes the extra cooling time can improve warpage, but it will cause extra production cost. We try our best to avoid the solution.
If you have larger part that has warpage or deformation risk that need
injection molding
services, please cotact us sales@viewmold.com
Our
companys
also provides
injection mold design
services, and injection mold design engineer team can help you that avoid for warpage risk.
Injection Molding air trap issue and solution
Injection Molding brittleness issue and solution
Injection Molding burn issue and solution
Injection Molding crack issue and solution
Injection Molding delamination issue and solution
Injection Molding dimensional variation issue and solution
Injection Molding discoloration issue and solution
Injection Molding excessive part weight issue and solution
Injection Molding fish eye issue and solution
Injection Molding flash issue and solution
Injection Molding follow line issue and solution
Injection Molding hesitation issue and solution
Injection Molding high volumetric shrinkage issue and solution
Injection Molding jetting issue and solution
Injection Molding overpacking issue and solution
Injection Molding racetrack effect issue and solution
Injection Molding short shot issue and solution
Injection Molding sink mark and void issue and solution
Injection Molding unbalanced flow issue and solution
Injection Molding underflow issue and solution
Injection Molding warpage issue and solution
Injection Molding weld and meld line issue and solution