ViewMold Co Ltd is an ISO 9001:2000 certified plastic injection molds company that supplies
plastic injection molds
plastic injection molds design
plastic injection molds manufacturing of high quality,plastic injection molding... We are Proud to bring to you the quality and speed you would expect from Viewmold plastic injection molds. We believe we will be your supplier of choice. Just give Viewmold a email or submit a quote online. Our team of quote specialists is the most responsive and the most hands on.
American Standard MoldBase Features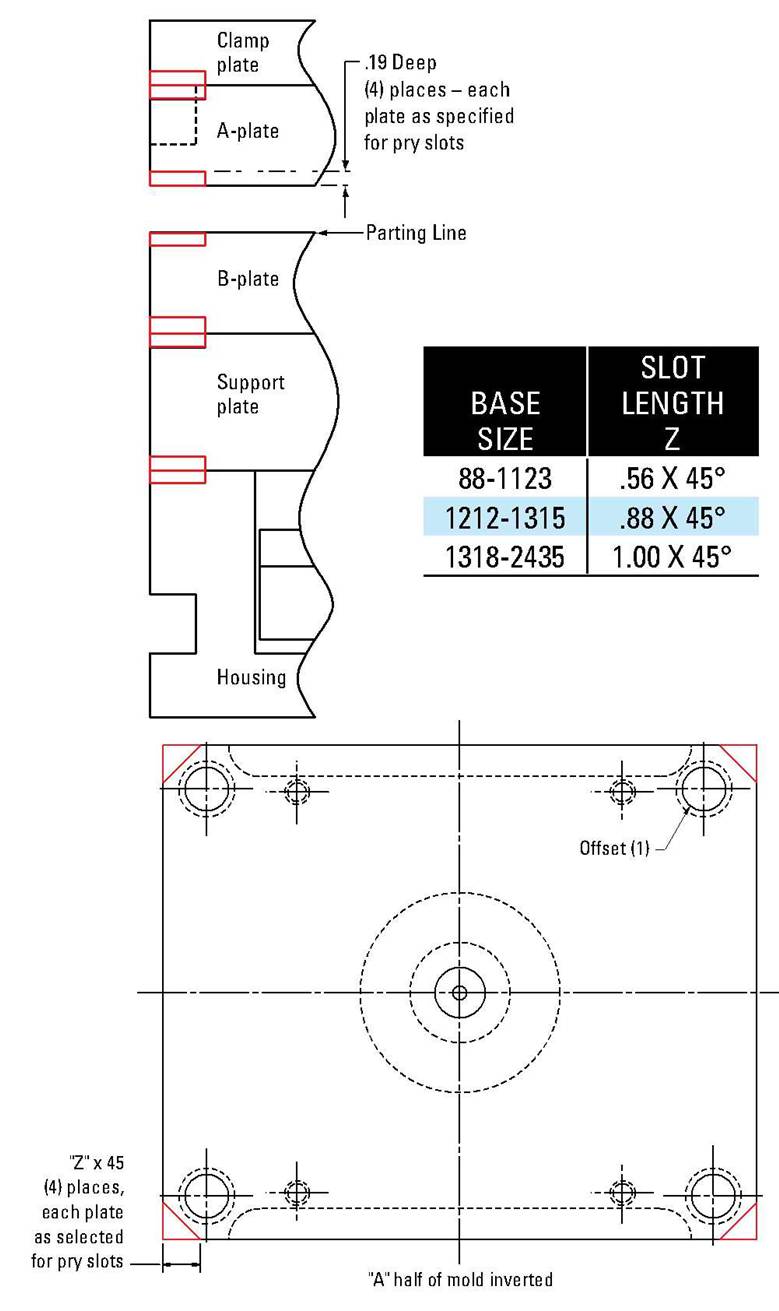 Mold base features Pry Slots, installed in any plate speci?ed, on the parting and/or non- parting line side. This provides handling ease when opening and/or disassembling a mold.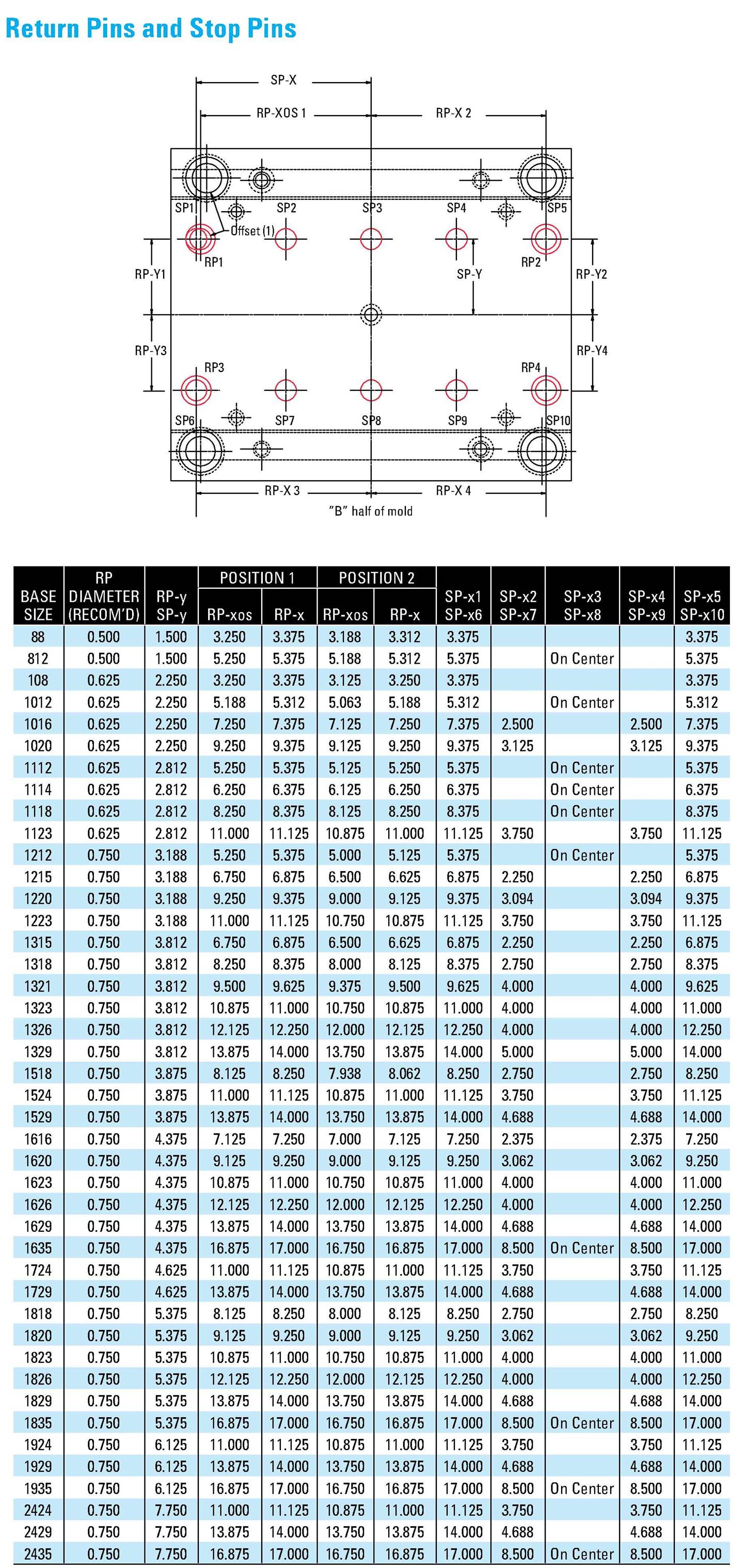 Leader Pins, Vents & Bushings
Leader Pins and Bushings align both halves of the mold at the parting line. Leader Pin Vents, which allow trapped air to escape from the mold, are designed into all 15-inch-and-wider series molds. When desired, they can be speci?ed on smaller molds.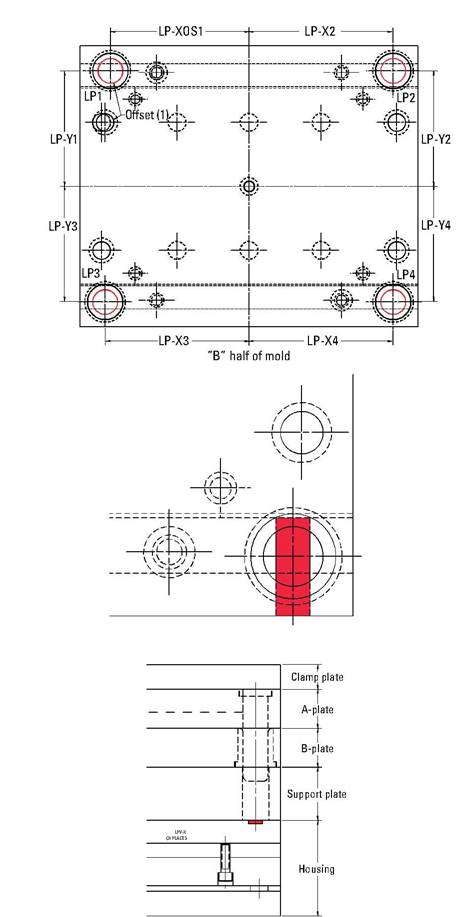 Ejector Housing & Cover
EjectorHousing Cover
For additional operator safety, SelectBase molds include an ejector housing cover, except when a longer length ejector bar is selected. The perforated D-M-E logo helps the operator to visu- ally determine if the ejector plate and ejector retainer plate are in the returned position. The cover is fastened on both sides with 5/16-18 button-head cap screws. Once again, D-M-E is leading the industry into a safer work environment.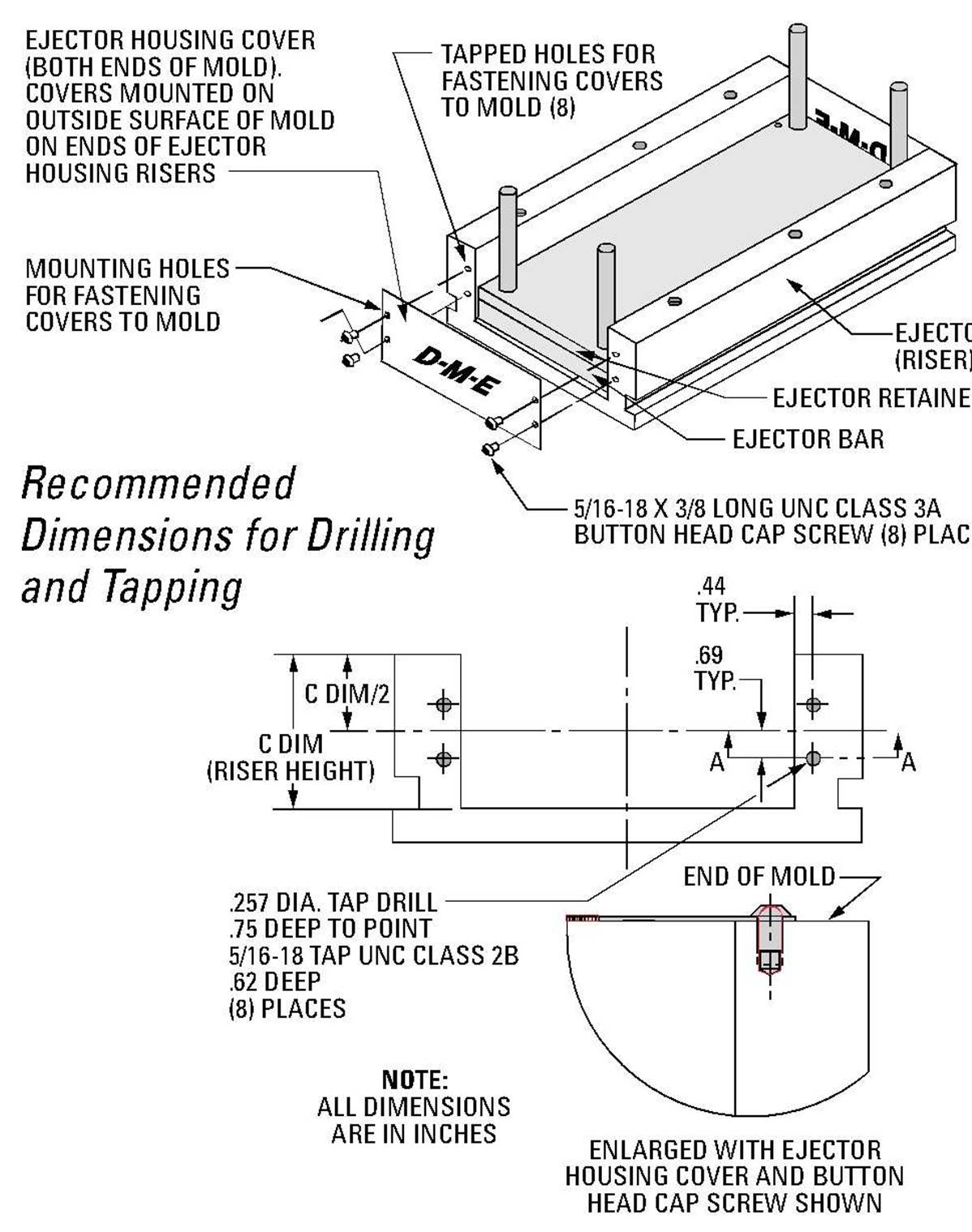 EjectorHousing
D-M-E offers a selection of housing types to ?t application demands. A one-piece welded housing is available for customers requiring maximum rigidity and robust durability. For maximum ?exibility of con?guration options, a three-piece housing is also available.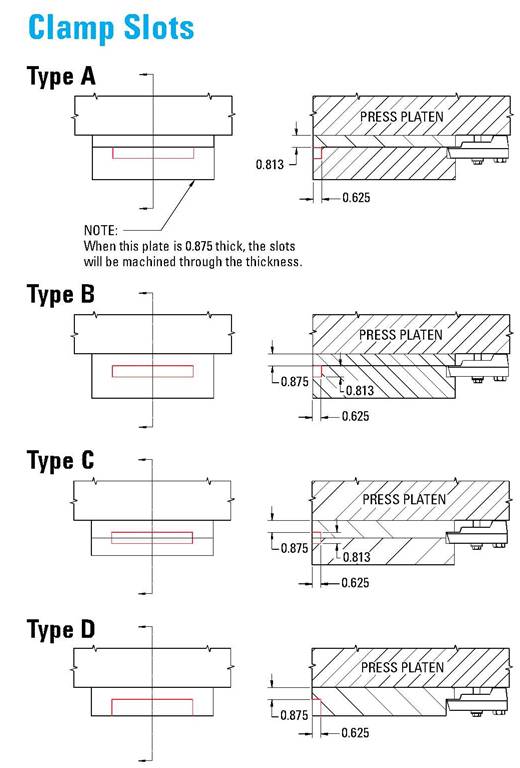 Clamp Slots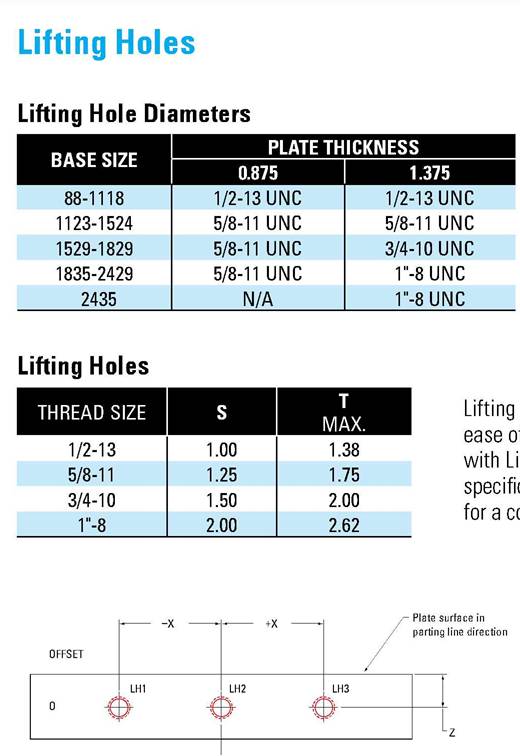 Lifting Holes
Lifting Holes can be used to install hoist rings forease of handling. Mold base can be con?gured o with Lifting Holes which are appropriate for the speci?c mold base size. Refer to the D-M-E catal for a comprehensive selection of Hoist Rings.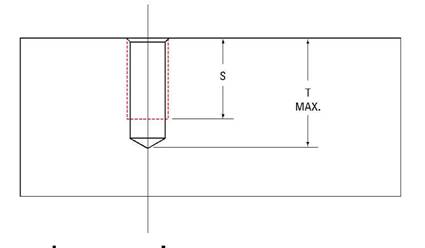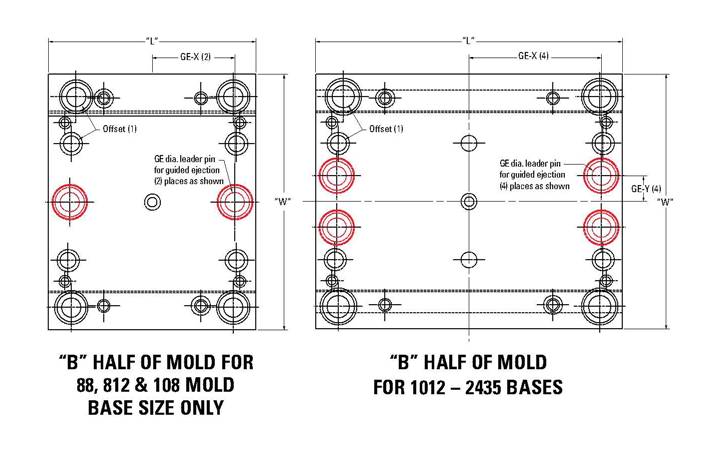 Guided Ejection Systems
Guided Ejection Systems hold the ejector assembly in alignment and support the weight of the ejector assembly throughout the molding cycle C greatly reducing wear on ejection components and preventing cocking of the ejector assembly.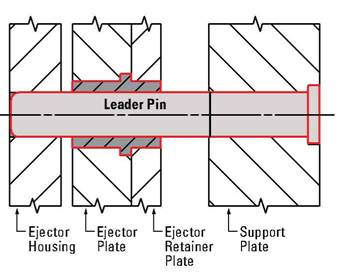 System 1
When pins are installed in the support plate, the ejector housing can be removed from the mold without removing ejector plates. This permits easy access to service the ejector system..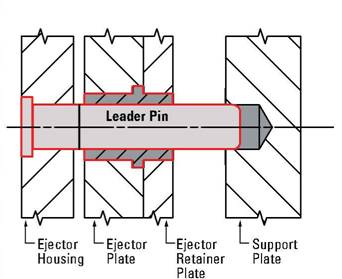 System 2
Pins installed in the ejector housing permit fast installation. When the ejector housing is removed from the mold base, the complete ejector assembly is removed.
Sizes & Thicknesses
43 Nominal Sizes
The American Standard Mold Base is available in 43 nominal sizes to match the mold space requirements for your application.
As the creator of the American mold base standard, D-M-E has the largest selection of mold base sizes and most are available in less than ?ve business days.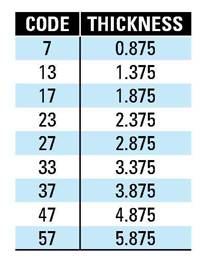 9 Plate Thicknesses
D-M-E offers mold plates for all nominal sizes up to 5-7/8".
Our own steel processing facility manufactures our mold plate directly from raw steel slabs.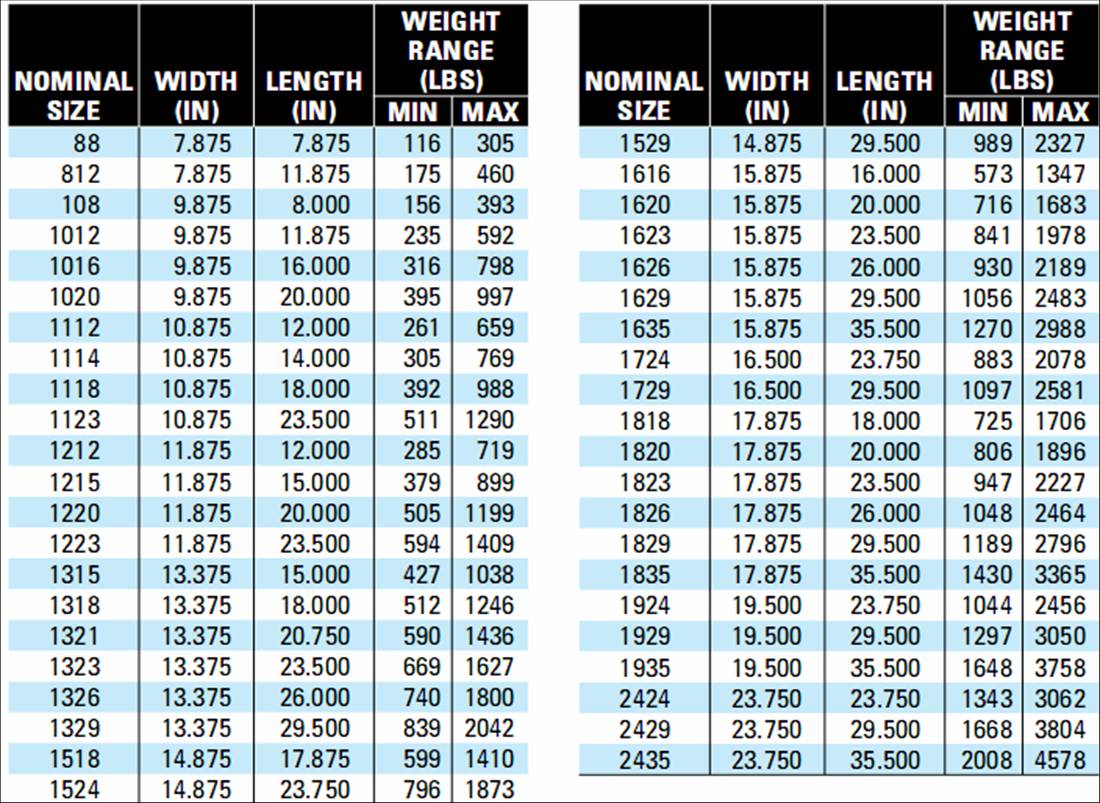 Steels for Structural and Holder Block Applications
D-M-E #1 Steel is a medium carbon quality steel with greater tensile strength than typical plain carbon warehouse steels. It machines easily, but is not °sticky? permitting a faste and smoother cut. International comparisons: DIN 1.1178 (CK 30) and 1.1730 (C 45 W); JIS S 30 CM, S50C, S55C; ISO 683-1 C30E4.
D-M-E #2 Steel is a medium alloy steel speci?ed for durability in structural applications. It is supplied pre-heat treated to 28-34 HRC (271-321 Bhn). A high strength steel, it is ideal for cavity and core retainer plates, clamping plates and support plates in molds. International comparisons: DIN 1.2312 (40CrMnMoS 8 6), 1.7218 (25CrMo4) and 1.2331 (41CrMoS4); JIS SCM 430; ISO 683-2 Type 1.
D-M-E #7 Steel is a modi?ed AISI 400 series stainless steel for holder block applications. It is supplied pre-heat treated to 32-36 HRC (302-340 Bhn). This stainless steel offers cor- rosion-resistance and exceptional machinability but cannot be further hardened (see D-M-E #6). For humid environments, corrosive plastics, °clean room?or ?00% stainless?appl tions, it is an ideal choice for all structural mold plates. International comparisons: none.
Steels for Cavity & Core Applications
D-M-E #3 Steel is a P-20 AISI 4130 type cavity steel. Exceptionally clean, it is pre-heat treated to 28-34 HRC (271-321 Bhn). It provides good machinability, the ability to heat treat to higher hardness, and exceptional polishability. International comparisons: DIN 1.2311 G40CrMnMo7; JIS none; ISO none.
D-M-E #5 Steel is an AISI/SAE H-13 type thermal shock resistant, hotwork die steel. Supplied fully annealed (approximately 200 Bhn; 13-20 HRC) for easy machinability, it can be subsequently heat treated to the desired hardness with a minimum of deformation. Mainly used for die cast dies, it is also suitable for plastic molds with exceptional hardness or polishability requirements. D-M-E #5 Steel meets or exceeds the acceptance criteria established by the NADCA as detailed in Technical Digest Number 01-80-01D. International comparisons: DIN 1.2344 (X40CrMoV5-1); JIS SKD 61; ISO 4955 H13.
D-M-E #6 Steel is a modi?ed AISI 420 type stainless steel. It is supplied fully annealed to 179-241 Bhn (8-23 HRC), making it readily machinable. Unlike D-M-E #7 steel, D-M-E #6 steel is a cavity-grade material that can be subsequently heat treated to the desired hard- ness and has excellent polishability. International comparisons: DIN 1.4028 (X30Cr13); JIS SUS 420 J 2; ISO none.
Ejector Assembly Screws
Upper & Lower Assembly